Traditionally, this sweet beverage was consumed chilled or even warm during the heat of summer in order to ward off the brutal heat. To this day, Amazake is used in Japanese Haikus as a seasonal word associated with summer.
Nowadays, it is more common to drink Amazake hot during the winters to stay warm, but it also has the health benefit of preventing heat strokes in the midst of summer.
Amazake is filled with Vitamins B1, B2, and B6, along with pantothenic acids, essential amino acids, all of which we cannot live without. The naturally occurring glucose is further known to be associated with rejuvenation from fatigue.
Kitaya Amazake
Amazake

Kitaya amazake
Our Amazake is made using only domestic rice and rice koji but is also alcohol free with no added sugar. Proudly, we offer this beverage as a family friendly alternative.


Sake Mirin (Sake for Cooking)
Fermented Seasoning

Sweet sake for seasoning
Made of a refined Junmai brew, this high-end fermented seasoning sake possesses the benefits of both sake and Mirin.
Cooking with this product helps eliminate raw odors (such as the scent of fish) while emphasizing the subtle flavors of any dish and enriches flavors. The mirin contains glucose and other forms of sugars that gives your cooking a natural sweetness and magnificent glaze.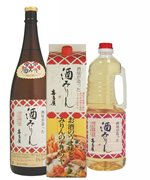 Junmai Cooking Alcohol
Fermented Seasoning

Junmai syuzou cooking sake
Made of a refined Junmai brew, this high-end fermented seasoning sake is specifically designed to bring out the flavors of any dish and softens meats while suppressing their odors to illuminate zest of your cuisine.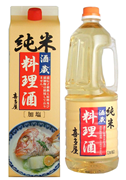 ● To apply for Brewery Tour, fill out the Contact Form below.
Contact via Telephone

9:00 AM – 5:30 PM (Closed Weekends and Holidays)

FAX: +81 (0)943-23-2156

374 Motomachi YameFukuoka 834-0031, Japan