Kitaya was founded some 190 years ago during the Bunsei Era (1818 - 1830) in Yame City. Located in the south of Kyushu's breadbasket on the Tsukushi Plains, the city is rich in nature and scenic beauty. Family records state, "Saikichi, the eldest son and patriarch, passed his patriarchal rights down to his brother Wasuke during the Bunsei Era to start his own brewery." After giving up his rights as the eldest, Saikichi devoted his life to producing Sake.
Because Komeya ("rice shop") was the original name of the family business, Saikichi is thought to have been a rice dealer before establishing his brewery. Since establishment, the business has been passed down to 2nd gen Director Usaburo, 3rd gen Director Kashichi, 4th gen Director Saikichi, 5th gen Director Mitsutaro, and 6th gen Director Shigeru. Since 1999, 7th gen Director Kotaro has been in charge of the business and is the current president.
The three Japanese characters within the word "Kitaya" read "Joy", "Many", "Homes", and to this day represent Kitaya's corporate philosophy of "Spreading Joy, One Sake at a Time". Also, because founder Saikichi had such a passion for brewing sake and employed himself as the chief brewer, the family rule that "The Owner should brew the Sake" has been passed down through the generations.
Kashichi, the third generation director, managed to survive the Meiji Restoration's sweeping new practices, vastly expanding the business. Two generations later, Mitsutaro submitted his Sake to the biannual competition held by the National Institute of Brewing and Kyushu Okinawa Institute of Brewing and won top awards in all three competitions during the first six years of the Showa period (1926 - 1931), winning the "Honorary Award" during those years. A year later, in 1932, the Honorary Memorial Brewery was built. The brewery was reestablished in 1951 as the Shirahana Brewery Co., Ltd., based on the popular Shirahana Sake brew of the time.
In 1973, Shigeru, the sixth generation director, was one of the first to implement new reduced-pressure distillation techniques. These skills allowed him to develop a new shochu that was significantly more aromatic than other existing shochus of the time. A year later, he developed refined sake into a cooking wine and introduced Sake Mirin, which quite substantially grew the business further. When the industry was shaken by the abandonment of the grading system used to classify sake, we renamed our company Kitaya Co., Ltd. to remind ourselves of the venturous spirit of our origins and to challenge ourselves to improve.
In order to further improve the quality of our products, we built a new production facility in 1997 equipped with the newest bottling technology. This was all in an effort to produce the best top shelf Daiginjyo and Junmai ranked sake. We began exporting these top shelf sake in 1998 and currently have networks in threeten countries.
In 2011, our Junmai Daiginjyo Kansansui sake was entered into the San Francisco International Wine Competition, receiving the highest Double Gold award. Then in 2013, the Daiginjyo Gokujo was entered into the IWC (International Wine Challenge) held in London, where Kitaya was awarded the Champion Sake of the World.

IWC 2013 International Wine Challenge

Trophy Award for Champion Sake
National Institute of New Brews Awards

Golden Medals in '92, '93, '94, '98, '99, 2000, 2006, 2009, 2011, 2012, 2013
Fukuoka National Tax Agency Evaluation Committee

First Prize "Director's Cup" in the Spring and Fall bi-annual competitions of 1992
(The Competition was held semiannually between 2000-2002. From 2004 to present, it has been held annually)
First Prize "Grand Award" in 2008 and 2012
(Award name was changed from "Director's Cup" to "Grand Award")
Gold Medals Awarded in '91, '93, '94, '95, '99, 2001, 2005, 2006, 2010, 2011
(Known as the Ribbon Award in the years prior to 1994)


Company Name

Kitaya Co., Ltd.
Founded

Bunsei Era (1818~1830) of the Edo Period
Capital

20 million yen
CEO

Kohtaro Kinoshita
Headquarters

Honmachi 374
Yame City, Fukuoka Pref. 834-0031
Japan
TEL: +81 943-23-2154 FAX: +81 943-23-2156
Fukuoka Branch Office

Oaza Ueki 1317-3, Suemachi
Kasuyagun, Fukuoka Pref. 811-2112
Japan
TEL: +81 92-935-1687 FAX: +81 92-935-5762
Yabemura Warehouse

Yabemura, Yame City, Fukuoka Pref.
(Within Taio Kinzan Goldmine Ruins)
Kurokimachi Location (Kokyu Warehouse)

Kurokimachi, Yame City, Fukuoka Pref.
(Within the Nakabaru Tunnel of the former Japanese National Railways)
Affiliated Firm

Fukushima Brewery Co., Ltd.
Honmachi 204,
Yame City, Fukuoka Pref. 834-0031
Japan
TEL: +81 943-22-2372 FAX: +81 943-22-2550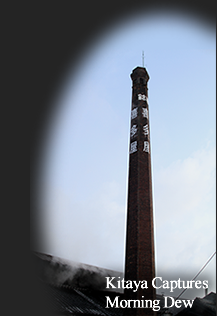 Five minutes (3 km) by car from Kyushu Highway's Yame Interchange.
Get off at JR Kagoshima Line's Hainuzuka Station, take a Horikawa Bus bound for
"Fukushima / Kuroki", then get off at the Yabaracho Bus stop and walk 2 minutes.

 ● To apply for Brewery Tour, fill out the Contact Form below.
Contact via Telephone

9:00 AM – 5:30 PM (Closed Weekends and Holidays)

FAX: +81 (0)943-23-2156

374 Motomachi YameFukuoka 834-0031, Japan